Another trial win against Vioxx. John McDarby and his wife got $4.5 million in a lawsuit against Merck company. John McDarby got a heart attack. He took Vioxx for 4 years. But the other victim Cona got only $45, because he took Vioxx only for 7 months. The result of this trial is better awareness of people about mega pharmaceutical companies and their greedy market policy. They sell drugs just to earn more and more money. And the people suffer because of these greedy acts. I think Merck should pay a lot more that few millions.
By Brooke A. Masters
Washington Post Staff Writer
Thursday, April 6, 2006; Page D01
A New Jersey jury ordered Merck & Co. yesterday to pay $4.5 million in the case of a man who blamed the firm's Vioxx painkiller for his heart attack, but rejected a similar claim from a second plaintiff who had taken the drug for less time and suffered less severe damage to his health.
The split verdict came in the fourth Vioxx-related lawsuit to go to a jury since Merck pulled the drug off the market in September 2004. The company said at the time that its studies had linked the use of Vioxx for 18 months to a heightened risk of heart attacks and strokes.
The Atlantic City jury found that Merck, the nation's fourth-largest drugmaker, had failed to warn John McDarby and Thomas Cona that Vioxx might be linked to heart trouble but said the drug was a factor only in McDarby's illness.
The trial was the first involving plaintiffs who said they had taken Vioxx for more than 18 months. Merck had won two of three previous cases, all of which involved short-term use.
Whitehouse Station, N.J.-based Merck has been hit by more than 9,600 Vioxx lawsuits involving more than 19,000 plaintiff groups. But Merck has rejected calls for a blanket settlement, saying it handled the drug properly and that factors other than Vioxx caused the heart attacks and strokes at issue.
"Everyone thought that if we got to the long-term use cases it would clarify everything, but that was too simplistic," said University of Richmond law professor Carl W. Tobias. "Merck now seems vindicated. It said it would fight [the cases] one by one, and there's no reason to change that strategy now." Merck has set aside $685 million to cover its legal costs.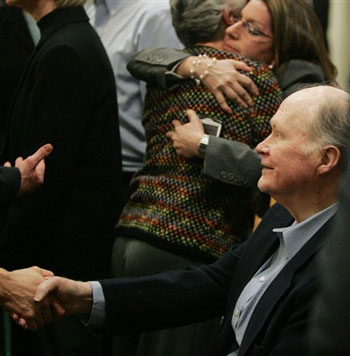 The six women and two men on the Atlantic City jury heard evidence for about a month and deliberated for most of two days before reaching their split verdict.
They awarded $3 million to McDarby, 77, who had a heart attack, broke his hip and was hospitalized for three months in 2004 after using Vioxx for four years. His wife was awarded $1.5 million. McDarby had several serious risk factors for heart attacks, including his age and diabetes, and his lawyer Robert Gordon argued that McDarby's doctor would not have prescribed Vioxx had he known of its connection to heart attacks and strokes.
"This is a victory for the 100,000 Americans who had heart attacks from Vioxx," Gordon said in an e-mail after the verdict. "This is a victory for the tens of thousands of doctors Merck lied to. This is a victory for the civil justice system, which protects people from dangerous drugs because the [Food and Drug Administration] is bulldozed by the pharmaceutical industry."
The jury will consider today whether to award punitive damages to McDarby, who still uses a wheelchair. Merck said in a written statement that it intends to "present evidence that shows the company submitted, to the FDA, information that was required concerning Vioxx" and therefore should not be further penalized. The company declined to comment further until the trial's penalty phase is concluded.
The jury rejected a parallel claim from Cona, 60, who said he suffered a heart attack on the golf course after taking Vioxx for 22 months. Merck lawyers argued that his heart attack was so mild, he suffered no lasting effects and pointed out that he did not receive prescriptions for the full period. Cona contended that he used samples for the rest of the time. His lawyer, W. Mark Lanier, who won a $253 million judgment against Merck for a client in Texas, could not be reached for comment.
Merck shares were down $1.12, to $34.87, as of 7:59 p.m. in after-hours trading.
Source: Washingtonpost.com