Root canals are not safe. Dr. Meinig is explaining to us that it is impossible to sterilize root canals and kill all the bacteria. So the root canals stay full of anaerobic bacteria that are very harmful to our body, especially when our immune system is damaged. Then these bacteria and viruses travel around the body and the result can be very serious – heart problems, liver diseases, other infections. Read the second parts of the interview with Dr. Meinig on root canals and cavitations. ………
Dr. Meinig: Well, we were talking about the fact that he didn't know about double-blind studies and what he did instead. He knew that he could introduce his own thinking into what he was doing and so he repeated a lot of things.
For instance he had a patient who had kidney trouble and had a root filled tooth. He removed that tooth, put it under the skin of a rabbit, the rabbit got kidney trouble and died within a few days. He took the tooth out of that rabbit, surgically of course, and washed it in soap and water, disinfected it with a disinfectant and put it under the skin of another rabbit and that rabbit got kidney trouble and passed away. He then took that tooth out of that rabbit and put it in another rabbit and he repeated that 30 times.
Laura Lee: The same tooth?

Dr. Meinig: That's right. The same root filled tooth. Now the reason he did that was that he had to prove to himself and to the world that this infection was able to be transferred and the only way he knew it was to do more animals and it wasn't that he disliked rabbits, in fact he took very good care of his rabbits, but this was one way he could do something about it. Now one of the things that happens with these root filled teeth is that when they are removed it is very often that periodontal membrane that is infected and the surrounding bony socket remains in the jaw and sometimes healing gets rid of that but many times it doesn't. And what happens then is an infection that occurs in the jawbone and I think we should turn this over to Dr. LaMarche because he's going to be telling you something about that phase of things.

Laura Lee: And the term cavitation. Dr. LaMarche…

Dr. LaMarche: Well cavitation actually is a cavity within the bone which was formerly occupied by a tooth. I think it's important that our listeners know that our office is one of 30 in the United States, Canada and Europe that have been selected to participate in a research group called the North American NICO Research Group. NICO is an acronym – Neuralgia Inducing Cavitational Osteonecrosis. Which is another word for dead bone, actually it literally means a cavity within the jaw that is lined with dead bone that causes pain.
Our research group was formed by Dr. Jerry Eboco who is an oral pathologist in West Virginia, and he began researching this extensively in I believe early '90s. Papers have been written on it since the '80s, and more recently he's been pursuing this and he gathered together a group of dentists so that we could make the connection between trigeminal neuralgia, atypical facial pain, chronic migraine headaches and cavitations. And what we have found in addition to this is when cavitations are removed, not only do we find that these trigeminal neuralgia's or this pain is relieved, but we find that patients also realize other improvements within their systemic health.

Laura Lee: How do you remove a cavitation, what do you mean by that? Remove the dead bone?

Dr. LaMarche: Well, cavitations do not show up extremely well on X-ray, but when they are located and maybe a little bit later we can describe how we locate them, but a cavitation is…an incision is made in the gum tissue over where a tooth was formerly located, a large enough area or flap is laid so that the gum is removed from the bone and we are allowed to penetrate the cortical plate or the bone overlying the cavitation. The dental instrument, in this case a drill, will actually fall through the bone and into this cavity. Before we clean it out, however, we go in with an instrument called a curette and scrape it very thoroughly and we submit this sample to the pathologist.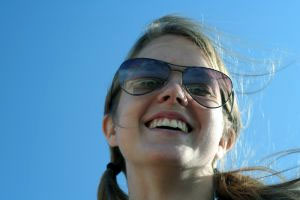 Laura Lee: What kind of lab results do you often get?

Dr. LaMarche: Well, I would say that probably 98% and even larger than 98% what we find is what's called ischemic osteonecrosis, it's bone death due to poor perfusion of oxygen or blood supply to a local area. The cavitations are lined with dead bone, the body's response to that is to…

Laura Lee: Seal it off!

Dr. LaMarche: Seal it off, it does that with fat, we will find fat in there. Ultimately the fat becomes calcified so we see what's called calcific fat necrosis. We will sometimes see chronic inflammatory cells, however that is not the hallmark of this disease, as a matter of fact we see few inflammatory cells – many times we'll see bacteria colonies, toxide filaments, within these specimens. I think another very interesting thing that we have learned from this through our biopsying is that the pathologist will identify what he terms fibrin sludging. That is the fibrin will actually start pooling.

Laura Lee: What is fibrin?

Dr. LaMarche: It is the part of the clotting factor and there is some proteins – C proteins, S proteins…

Laura Lee: From blood that was in there when the tooth was pulled?

Dr. LaMarche: Exactly. What happens is the blood initially comes into the site but because of the body's inability to break down the clot or because of the body's ability to make a very tenacious clot – one has either what's called thrombopheha or hypofibrinolysis. Laura Lee: Whichever it is, it doesn't sound nice.

Dr. LaMarche: Either one of them, one of them is a very tenacious clot or an inability to break the clot down, consequently nothing gets in, nothing gets out, we have bone death.

Laura Lee: Why does it happen in the jaw bone 98% of the time? If someone breaks their leg bone, that bone heals up nicely in most instances. Why does the body have more trouble with the jaw bone tooth extractions than say other parts of the body?

Dr. LaMarche: That's a very good question. I believe that when a bone is broken and two pieces are put together that's a different kind of…

Laura Lee: There's no space left.

Dr. LaMarche: Exactly, however what has been done in the Jewish Hospital in Cincinatti, a Dr. Glick, MD has made a direct correlation between the head of the femur, people fracturing the head of the femur, that osteonecrosis or bone death is identical to that which we find in the jaws.

Laura Lee: Because that's a more solid part of the bone, a denser part of the bone? What is it about that site?

Dr. LaMarche: I would say that probably it has more to do with the circulation to the area.

Laura Lee: Okay.

Dr. LaMarche: Again, osteonecrosis as we see it is defined as ischemic osteonecrosis and ischemic implies that it is a lack of perfusion of blood to the site.

Laura Lee: In both cases it's a lack of oxygen that leads to the mutation of the bacteria, they go from being aerobic to being anaerobic bacteria in root canal instances. And here you find a lack of oxygen to the site so there is a common factor. How often do you find where you take out an infected tooth, say a root canal tooth, either it's infected and you say I don't want to put a root canal in, let's pull it and do other options, or it's a root canal infected tooth that you pull – probably you're going to have necrotic tissue arising because it's so full of bacteria, or that compared to say a wisdom tooth that needs to be pulled for other reasons, it's not infected or impacted – it just needs to get taken out.

Dr. LaMarche: That's what we're now recommending no matter why you have to take a tooth out – even if it isn't infected, then a protocol needs to be followed and that protocol means that the dentist after he removes the tooth he also removes the periodontal ligament or membrane which is a fibrous tissue that holds the tooth in the socket, that's what keeps the tooth from failing out.
That becomes infected and it's still attached very securely to the surrounding bony socket and so what we recommend is that the dentist go in with a slow moving drill and remove that periodontal membrane and about 1 mm of the bony socket in order to prevent these infections from occurring. And strangely enough we find in many areas for instance, wisdom teeth when they're removed, even though they were healthy teeth – for some reason or another they very often develop a cavitation around them.
Some 400/0 of all wisdom teeth extractions develop cavitations and the thing that should be done and what we're thinking is better to be done, is to remove that periodontal membrane at the time you remove the tooth and some of the surrounding bone in order to prevent this from happening.

Laura Lee: Well, that's great when you're getting a tooth extracted by a dentist that knows this research and knows the procedure, but what about all those people who have wisdom teeth? I mean most of us have had our wisdom teeth extracted and they've grown over and the dentist didn't know and so then you have a situation where you probably have to go in again and clean that out as you were describing. We'll take a break and take some phone calls when we come back and what we're going to do is have information only about the topic – cavitations, root canals, nutrition.
Root Canals & Cavitations
These are the topics, and please don't get too personal and ask for a diagnosis. That's not what these two doctors are here for, but to give out information on some of this new research. We'll be right back.

Laura Lee: And we are back, hi, Laura Lee here and we are talking with Dr. Michael LaMarche, dentist in Lake Stevens, Washington area and Dr. George Meinig. He's the author of Root Canal Cover-up, and you were in Ojai, California. We have some calls for you gentlemen, we have Call calling in next. Hi, Call, thanks for joining us.

Gail:Thank you. A couple years ago I had a root canal done and as soon as it was done it didn't feel very good and I kept telling them I thought something was wrong and they told me it was a great root canal and there was absolutely nothing wrong with it. And I've had a lot of pain in my right ear, and the jaw as a result and I can't find a dentist that's willing to take that tooth out. I've been to three endodontists and five dentists and no one will pull that tooth, because they look at it and say it's a great root canal. So my question is – where can I find a dentist in my area that will actually look at this and possibly extract that root canal tooth, it's a bicuspid.

Dr. LaMarche: Can I ask what area she's in?

Laura Lee: You're in Tacoma, Washington, Gail?

Gail: Yeah.

Laura Lee: Michael, you mentioned that there were 30 dentists involved in the cavitation research, what about the root canal research? How many dentists are there out there that are up on this and familiar with the work?

Dr. LaMarche: Well currently, right now, in the research group there are 30 of us, and I'm sure that there will be more.

Laura Lee: Can dentists anywhere say "I want to get involved, I want to find out?" They're looking for more dentists?

Dr. LaMarche: Yes, if they would contact you perhaps you might connect them up with me and we could make arrangements for them to communicate with Dr. Bocho so that they could learn more about this because certainly we need more involved….

Laura Lee: Is there a list available so that someone could send…I'11 be happy to distribute the information, but if there's a list then our listeners in San Francisco to Minneapolis could also write in and get a list of dentists.

Dr. LaMarche: Exactly. Dr. Bocho did ask those of us participating in this research if we would have any objections to him giving the names out and I cannot recall that anyone raised their hand and objected, so I'm sure that he would provide you with that list.

Laura Lee: And Dr. Meinig do you have any sort of list of dentists who are up on this?

Dr. Meinig: I have a list of dentists that I refer. This is such a new subject many dentists are in disagreement with it of course, because they haven't heard or seen the research.

Laura Lee: They may disagree until they see the research…

Dr. Meinig: We do have a scattering of them around the country and the only thing is that when we give you a name, the first thing you ask is whether they follow the root canal extraction protocol. Now that may sound like a lot of things to say, but if you just ask if they follow the extraction protocol and they say "yes," then fine. If they say "no," then you keep looking, because what you want is somebody that does follow that protocol.

Dr. LaMarche: I would like to add too to this, if I may, that it's very important that you have that biopsy. I think to take the tooth out, to say we've taken care of your problem, or to remove a cavitation and to say that we've taken care of the problem is incorrect without substantiating the clinical diagnosis with a pathologist's report.

Laura Lee: So what do you find out? If you had any bacteria colonies, then what? Then what do you do?

Dr. LaMarche: Well, let me say that for example root canal teeth radiographically on X-ray – they look beautiful, and there are those people that don't believe that they cause a problem and probably they don't cause a problem when one is healthy and in a healthy state. I think when root canal teeth become a problem is when one becomes older and there are more immunological challenges. Each root canal tooth that we have removed we have documented on the last 150 – 147 of those have had ischemic osteonecrosis around the tooth.

Dr. Meinig: Is it in the bone around there?

Dr. LaMarche: That is in the bone surrounding the tissue. Laura Lee: Not to mention the tooth itself, right?

Dr. LaMarche: By the way, the trichologist (fungal scientist) also decalcifies the tooth and examines if there is any necrotic or dead tissue within the tooth and some ofthese have been extremely well filled, well done technically.

Laura Lee: Okay, we have Mike calling from a car phone before he gets out of range. Hi, Mike.

Mike: This has been a very interesting topic. My wife is suffering from a probable root canal, but my question is: the research that they did with the animals where they implanted a tooth – how it had affected the kidneys which was the thing of the original patient or whatever – I wanted to know if the original human patient got better or saw improvement after that and after the infected root canal tooth was pulled out.

Dr. Meinig: Sorry I didn't answer that right away. We get so involved in telling what's wrong we forget about telling you what happens. Most of these people recover quite quickly, a little of it depends on how long they've had the infection. Obviously if they've had it for five or ten years it may be pretty well entrenched and take a while to get rid of it and may not get rid of it completely. Most of them however, go away completely and so many of them in one or two days, it's really very startling.
Some of us are beginning to think that it's a little more than the transfer of infection and it may be electrical in some way, electrical transference through the acupuncture meridians and through other systems in the body. There are a number of things we don't know about this, other than we do know that it happens and very many people by the next day – their arthritis is gone. I've had them call and tell me that they can now do their mile jogging and walking that they couldn't do yesterday when they had that tooth in their mouth.

Laura Lee: To me it seems like "hedge your bets." If there's this kind of research on line, take advantage of it and this information. Hi, Laura Lee here for a second hour to spend with Dr. George Meinig and Dr. Michael LaMarche talking about cavitations, that space left in the jawbone when a tooth is extracted can lead to having necrotic dead bone tissue there, can lead to jaw pain, neck pain, other problems. And also root canals, the theory being that, in fact this is pretty much confirmed, it's not really a theory, it's confirmed science, is it not, Dr. Meinig?

Dr. Meinig: Well, Dr. Price used 5,000 animals to help with all of this confirming.

Laura Lee: And he ran through those rabbits. The research indicating that microtubules in the tooth can harbor bacteria that mutate and that can get out into the bloodstream and cause problems and compromise the immune system and lead to degenerative diseases.
So, we're going to find out what to do, how to prevent problems and the first place is – nutrition can play a role. I know that you also did some extensive research with Dr. Price's theory that nutrition impacts the development of the jaw and the person, the personality. An extraordinary amount of research done that is being confirmed today.
By the way, someone wanted to know about getting a list of dentists in your area that is upon this research and can perform some ofthese techniques. There is a list from Dr. Bocho who is heading up the NICO research of which Dr. LaMarche is a member, one of those 30 dentists nationwide who is conducting research into cavitations. And that's one reason why you're doing the biopsies and sending it to the lab, because that's part of the research. You want to know…

Dr. LaMarche: May I add something here – that Dr. Bocho and our group has applied for a grant and we are waiting to hear from NIH, the National Institutes of Health, regarding acceptance of this grant. And it looks as though they're very excited in supporting us in our research.

Laura Lee: So this is very mainstream then?

Dr. LaMarche: Yes, it is.

Laura Lee: It's not alternative research when we have the National Institutes of Health involved.

Dr. LaMarche: No. This makes very good sense, what's happening, and you can't lie with microscopic slides.

Laura Lee: There are two lists – the Dr. Bocho list of dentists, those 30 dentists in the area, and also the Price-Pottenger list of those who specialize in root canal removal problems.

Dr. LaMarche: Right.

Laura Lee: Okay, we have two lists available and if you send a self-addressed, stamped envelope to me at P.O. Box 3010, Bellevue, Washington 98009 we'll be happy to send you those two lists. Let's take a call next from Alex calling from Salt Lake City, KCNR, hi Alex.
This was an interview from the Laura Lee Show on radio that has been edited of news and commercials. For a complete listing of over 600 interviews on cassette as well as selected videos and books, write to Laura Lee, P.O. Box 3010, Bellevue, Washington 98009, or call the hotline at 1-800-243-1438 for the newest listings